Bush and Blair guilty of 'Crimes against Peace'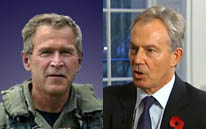 The former US President George W. Bush and the former UK Prime Minister Tony Blair found guilty of 'Crimes against Peace' on 22 by a moot court in Malaysia.
The former Prime Minister of Malaysia Mahathir Mohamad set up the court in Kuala Lumpur in 2007 strongly criticizing the Iraq war led by the USA. The hearing went on for 4 days and the court was specifically established to judge the duo.
They were tried in absentia by a panel chaired by the former Malaysian federal court judge Abdul Kadir Sulaiman. Other members included US peace activist Alfred Lambremont Webre and Indian lawyer Niloufer Bhagwat. Francis Boyle, US international law expert was among the prosecutors.
This judgment has no powers at all but a symbolic gesture. However, there will be further hearings including the former Vice President of US Dick Cheney and the former US Secretary of defence Donald Rumsfeld.
Lee, Myoung-Hiyoun Reporter mhlee@theasian.asia